Aims and Scope
Cut Husna, Mustanir Yahya, Hajjul Kamil, Teuku Tahlil
---
Introduction:
Indonesia, being a part of the Pacific "ring of fire," is prone to disasters. Several disasters occurred from 2004 to 2019, which resulted in the loss of many lives. These disasters impacted the physical, psychological, psychosocial, and spiritual conditions of survivors. Nurses are the frontline care providers who need adequate competencies to respond to disasters.
Objective:
This study aimed to explore the nurses' perception of disaster, roles, barriers, and Islamic-based nurses' competencies in managing psychological, psychosocial, and spiritual problems due to disasters in hospital settings.
Methods:
This is a qualitative study conducted in three large referral hospitals in Banda Aceh, Indonesia. Focus group discussion was conducted on 24 nurses from three hospitals using the discussion guide consisting of five open-ended questions. The data was analyzed through inductive content analysis.
Results:
The study found four themes of Islamic nurses' competencies in disaster response: 1) perception about the disaster is influenced by religiosity, belief, and values, 2) communication skills, 3) nurses' roles in disaster response consisted of disaster competencies (the use of Islamic values in managing patients' conditions, and family engagement, 4) competency barriers consisted of inadequate training, insufficient Islamic-based services, and inadequate involvement of policymakers. This study explored Islamic nurses' competencies in disaster response related perceptions about the disaster, nurses' roles, and barriers. The limitation and future of the study were also discussed.
Conclusion:
Perceptions, roles, and barriers in disaster response might influence the development of the Islamic-based nurses' competencies in care delivery.
---
February 16, 2021
Go-Un Kim, Eunyoung Jung, Mikyeong Cho, Soo Y. Han, Mira Jang, Mikyung Lee, Sumi Lee, Yujin Suh, Hye Y. Yun, Sue Kim, Mi So Shim
---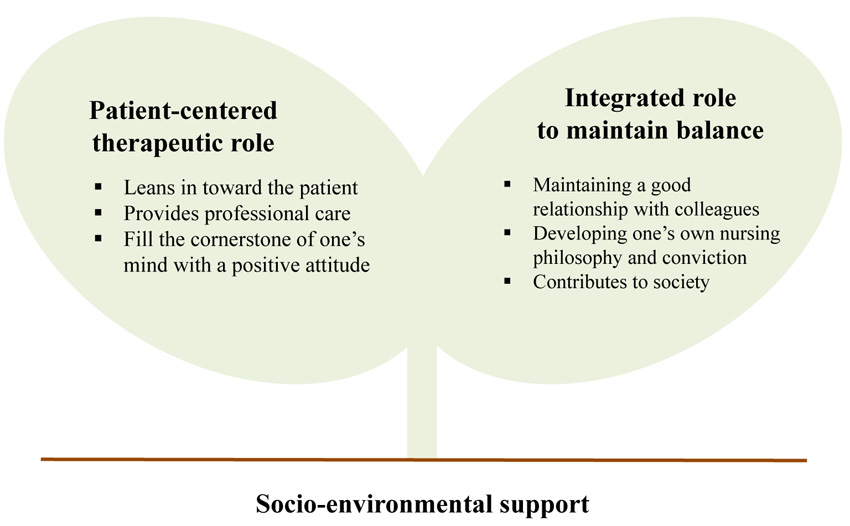 Background:
The health care paradigm is being challenged to put greater emphasis on promoting a healthy lifestyle and provide patient-customized care in a rapidly changing Korean society. Within such changes, it is worthwhile to identify how the meaning of a good nurse may be changing.
Objective:
This study explores the meaning of a good nurse from the perspective of nurses themselves.
Methods:
In-depth interviews were conducted with ten nurses who worked at senior general hospitals or governmental agencies using purposeful sampling. Individual interviews were done until data saturation was reached. The key question was "What does a good nurse mean to you?" After the interview, content analysis was done.
Results:
Six main themes and 16 subthemes were identified. The main themes showed that a good nurse was someone who 'leans in toward the patient', 'provides professional care', 'keeps the cornerstone of one's mind with a positive attitude', 'maintains a good relationship with colleagues', 'matures with her/his nursing philosophy and conviction', 'contributes to society'.
Conclusion:
This study provides basic data for exploring nurses' self-image as a professional. Specifically, social role and macro level responsibilities were identified with nurses' internal aspects such as a positive attitude, and nursing philosophy. The necessity of socio-environmental support for nurses was also emphasized. In addition, the results of this study can be used at the policy level to provide a better balance for development of good nursing.
---
February 28, 2019