Aims and Scope
Nayereh Jafari Shirvani, Fatemeh Ghaffari, Zahra Fotokian, Mahmoud Monadi
---
Introduction:
One of the effective factors in the participation and cooperation of elderly patients with Chronic Obstructive Pulmonary Disease (COPD) in self-care activities is to receive medical, caring, emotional and psychological support from family members. However, an elders' perception of the received support can affect the effectiveness of family social support.
Objective:
The aim of this study was to determine the association between perceived family social support and self-care behaviors of elders with COPD.
Methods:
This is a descriptive cross-sectional study. The research setting is Omid Chronic Disease Clinic, Babol city, north of Iran. Two hundred elderly people with COPD were enrolled in the study by convenience sampling. Demographic and clinical data were recorded. Perceived Family Social Support Scale (developed by Procidona and Heller 1983) and self-care behaviors for COPD patients' questionnaire (developed by Alberto 1993) were used for data collection. Statistical analysis was performed by SPSS software version 16.
Results:
The mean age of 200 Iranian elderly people with COPD was 71.25±7.15 years and the mean duration of disease was 5.21±3.6 years. The mean score of perceived family social support was 17.69±2.74, which was considered as good and the mean score of self-care behaviors was 105.36±20.27, which was considered as good. There was a negative, significant relationship between the perception of family social support and self-care behaviors of the elderly with COPD (r=-0.44; P<0.001). Also, a positive, significant relationship was identified between self-care behaviors with gender (be male), high education level and living with family (not alone) variables (P<0.05).
Conclusion:
The results of this study showed that elders with COPD had good self-care behavior. But for some self-care behaviors (60-101 subjects) reported, they "rarely" performed the desired self-care behavior, which supports the need for patient and family educational interventions in the future. So, because of patient's aging and growing care needs, there is a need for planning continuing education for the elderly and their family in order to continue and improve self-care behaviors and reduce patient dependence on caregivers. It is suggested that improving the elderly's perception of the received supports should be included in patient education programs and family education programs should emphasize family support to increase the patient's motivation for self-care.
Relevance to Clinical Practice:
The assessment of the perceived family social support, and self-care behaviors of the elders with COPD should be an essential part of nursing practice. The study also provides the foundation for the conduct of future studies of self-care behavior training for managing elder patients with COPD.
---
February 14, 2020
Go-Un Kim, Eunyoung Jung, Mikyeong Cho, Soo Y. Han, Mira Jang, Mikyung Lee, Sumi Lee, Yujin Suh, Hye Y. Yun, Sue Kim, Mi So Shim
---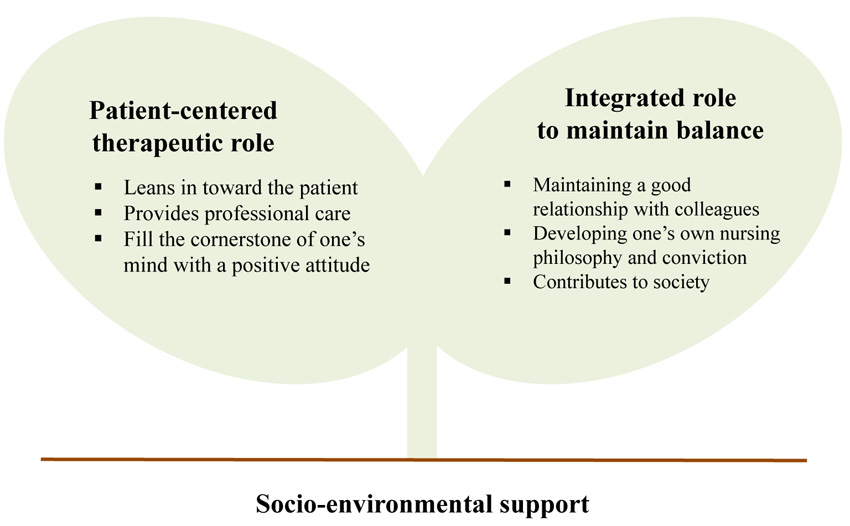 Background:
The health care paradigm is being challenged to put greater emphasis on promoting a healthy lifestyle and provide patient-customized care in a rapidly changing Korean society. Within such changes, it is worthwhile to identify how the meaning of a good nurse may be changing.
Objective:
This study explores the meaning of a good nurse from the perspective of nurses themselves.
Methods:
In-depth interviews were conducted with ten nurses who worked at senior general hospitals or governmental agencies using purposeful sampling. Individual interviews were done until data saturation was reached. The key question was "What does a good nurse mean to you?" After the interview, content analysis was done.
Results:
Six main themes and 16 subthemes were identified. The main themes showed that a good nurse was someone who 'leans in toward the patient', 'provides professional care', 'keeps the cornerstone of one's mind with a positive attitude', 'maintains a good relationship with colleagues', 'matures with her/his nursing philosophy and conviction', 'contributes to society'.
Conclusion:
This study provides basic data for exploring nurses' self-image as a professional. Specifically, social role and macro level responsibilities were identified with nurses' internal aspects such as a positive attitude, and nursing philosophy. The necessity of socio-environmental support for nurses was also emphasized. In addition, the results of this study can be used at the policy level to provide a better balance for development of good nursing.
---
February 28, 2019