Aims and Scope
Tagreed O. Shawashi, Muhammad Darawad
---
Aim:
This study aimed to investigate female university students' knowledge, beliefs and self-efficacy regarding osteoporosis.
Methods:
This is a descriptive cross-sectional study conducted amongst 260 female university students in Jordan. This study utilized a package of instruments to measure different variables of the study, including demographic data, Osteoporosis Knowledge Assessment Tool (OKAT), Osteoporosis Health Belief Scale (OHBS) and Osteoporosis Self-Efficacy Scale (OSES).
Results:
Participants had a relatively low level of knowledge regarding osteoporosis (M=8.1/20, 40.5%). In general, they had fairly positive beliefs towered osteoporosis with a percentage of 70% (M=3.5/5, SD=0.3) and moderate self-efficacy in practicing osteoporosis recommended practices. No significant differences were observed in participants' knowledge, beliefs, and self-efficacy of osteoporosis based on their demographic variables except their college specialty.
Conclusion:
The current study confirmed that female university students had inadequate knowledge about osteoporosis. There is a gap between the participants' beliefs, self-efficacy about osteoporosis and their daily lifestyle. In view of such lack of knowledge of osteoporosis, efforts should be made to raise the level of osteoporosis awareness among university students through health education intervention programs for all-female university students regardless of their college, specialty or academic program.
---
October 15, 2020
Go-Un Kim, Eunyoung Jung, Mikyeong Cho, Soo Y. Han, Mira Jang, Mikyung Lee, Sumi Lee, Yujin Suh, Hye Y. Yun, Sue Kim, Mi So Shim
---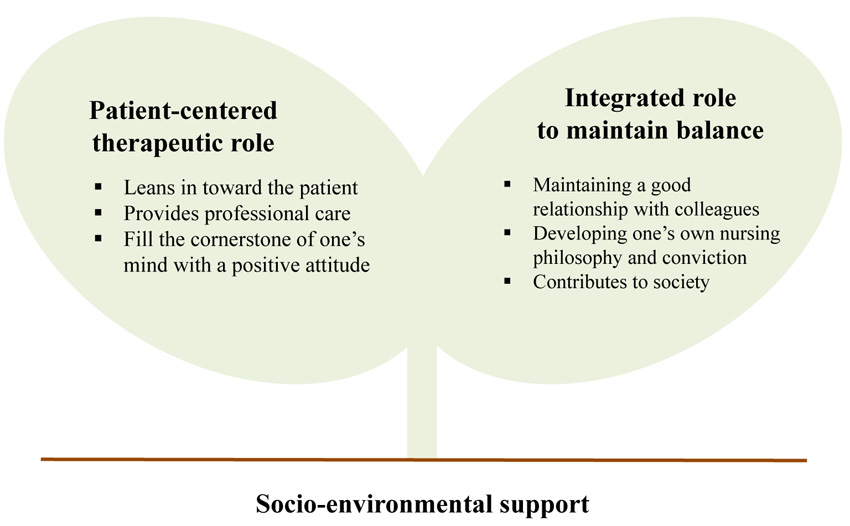 Background:
The health care paradigm is being challenged to put greater emphasis on promoting a healthy lifestyle and provide patient-customized care in a rapidly changing Korean society. Within such changes, it is worthwhile to identify how the meaning of a good nurse may be changing.
Objective:
This study explores the meaning of a good nurse from the perspective of nurses themselves.
Methods:
In-depth interviews were conducted with ten nurses who worked at senior general hospitals or governmental agencies using purposeful sampling. Individual interviews were done until data saturation was reached. The key question was "What does a good nurse mean to you?" After the interview, content analysis was done.
Results:
Six main themes and 16 subthemes were identified. The main themes showed that a good nurse was someone who 'leans in toward the patient', 'provides professional care', 'keeps the cornerstone of one's mind with a positive attitude', 'maintains a good relationship with colleagues', 'matures with her/his nursing philosophy and conviction', 'contributes to society'.
Conclusion:
This study provides basic data for exploring nurses' self-image as a professional. Specifically, social role and macro level responsibilities were identified with nurses' internal aspects such as a positive attitude, and nursing philosophy. The necessity of socio-environmental support for nurses was also emphasized. In addition, the results of this study can be used at the policy level to provide a better balance for development of good nursing.
---
February 28, 2019