Aims and Scope
Ebtsam Aly Abou Hashish, Sharifah Alsayed
---
Background:
Implementing Evidence-Based Practice (EBP) and Quality Improvement (QI) were recognized as the core competencies that should be held by all healthcare professionals, especially nurses, as front-line healthcare providers. Assessment of the current level of knowledge, skills, and attitude of nurses, regarding EBP and QI, is important for the design of strategies that could enhance the competence of nurses in such practices and, in turn, promote patient care quality.
Objective:
This study aimed to assess the attitudes, knowledge, and skills of nurses in Evidence-Based Practice (EBP) and Quality Improvement (QI), in addition, to studying the relationship between EBP and QI.
Methods:
A cross-sectional study was conducted using a convenient sample of nurses (N=300) who work in three Egyptian hospitals in Alexandria city, representing the university, governmental, and private health sectors. The EBP and QI questionnaires were used in addition to a demographic form for the studied nurses. Statistical analysis was carried out using ANOVAs, student t-test, Pearson correlation, and Regression analysis (R2).
Results:
Nurses displayed positive attitudes toward both EBP and QI. However, they perceived themselves to be lacking sufficient EBP knowledge and need to improve their QI skills. There was a strong positive correlation between EBP and QI with a predictive power of QI on EBP (r= 0.485, R2 = 0.273, p<0.001).
Conclusion:
Nurses need educational support for enhancing their attitude, knowledge, and skills related to EBP and QI. To prepare for educational programs, hospitals and nursing administrators should consider the characteristics of nurses, work schedules, and obstacles in the use of EBP. Hospital managers should also implement effective strategies to resolve the barriers and boost facilitators to increase the use of EBP among Egyptian nurses and promote QI.
---
December 02, 2020
Go-Un Kim, Eunyoung Jung, Mikyeong Cho, Soo Y. Han, Mira Jang, Mikyung Lee, Sumi Lee, Yujin Suh, Hye Y. Yun, Sue Kim, Mi So Shim
---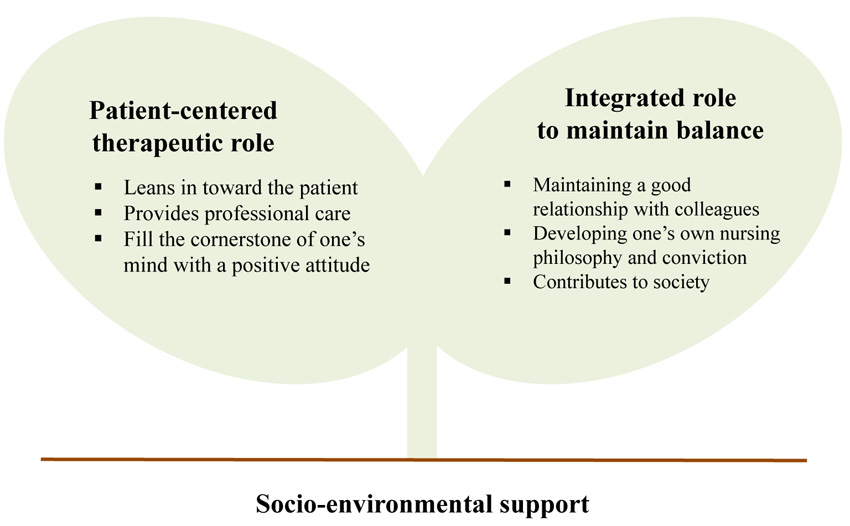 Background:
The health care paradigm is being challenged to put greater emphasis on promoting a healthy lifestyle and provide patient-customized care in a rapidly changing Korean society. Within such changes, it is worthwhile to identify how the meaning of a good nurse may be changing.
Objective:
This study explores the meaning of a good nurse from the perspective of nurses themselves.
Methods:
In-depth interviews were conducted with ten nurses who worked at senior general hospitals or governmental agencies using purposeful sampling. Individual interviews were done until data saturation was reached. The key question was "What does a good nurse mean to you?" After the interview, content analysis was done.
Results:
Six main themes and 16 subthemes were identified. The main themes showed that a good nurse was someone who 'leans in toward the patient', 'provides professional care', 'keeps the cornerstone of one's mind with a positive attitude', 'maintains a good relationship with colleagues', 'matures with her/his nursing philosophy and conviction', 'contributes to society'.
Conclusion:
This study provides basic data for exploring nurses' self-image as a professional. Specifically, social role and macro level responsibilities were identified with nurses' internal aspects such as a positive attitude, and nursing philosophy. The necessity of socio-environmental support for nurses was also emphasized. In addition, the results of this study can be used at the policy level to provide a better balance for development of good nursing.
---
February 28, 2019