Aims and Scope
Bruna Andrade dos Santos Oliveira, Elaine Mazuqui Rigonato, Alvaro Francisco Lopes de Sousa, Adriano Menis Ferreira, Larissa da Silva Barcelos, Mara Cristina Ribeiro Furlan, Marcelo Alessandro Rigotti, Guilherme Schneider, Denise de Andrade, Luis Velez Lapão, Aires Garcia dos Santos Junior
---
Objective:
To evaluate the correlation between microbiological culture, ATP tests by bioluminescence and visual inspection for monitoring the surface cleaning and disinfection in an emergency room.
Methods:
This is a prospective, analytical study with a quantitative approach. Data analysis was guided by the following tests: Spearman's correlation, Fisher 's exact test and receiver operating characteristic (ROC) curve.
Results:
There was a correlation between ATP quantification methods and microbial count for the women's bathroom door handle (ρ = 0.526; p= 0.008). In this study, considering the ROC curve, the ATP value below 20 RLU is suggested to classify surfaces as approved in the emergency room.
Conclusion:
Using different methods of monitoring the cleaning and disinfection process is essential, considering that each method has a different purpose.
---
June 18, 2021
Felicity Astin, John Stephenson, Jonathan Wakefield, Ben Evans, Priyanka Rob, Garside Joanna, Emma Harris
---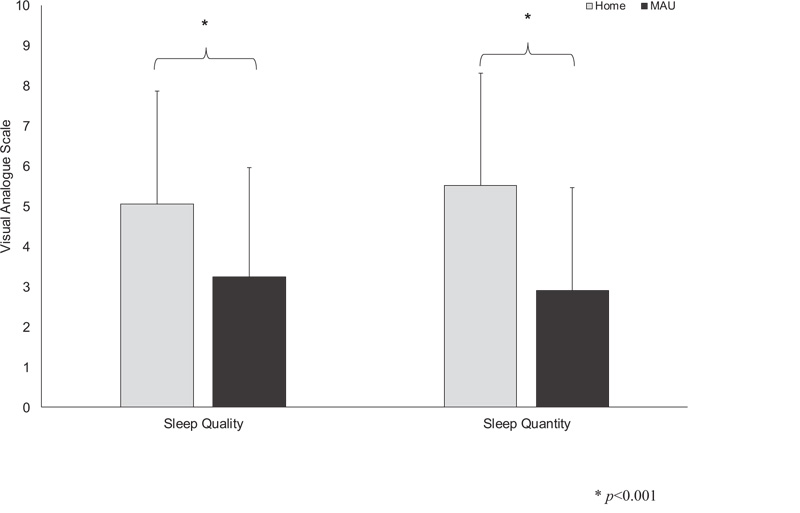 Background:
Hospital in-patients need sleep so that restorative process and healing can take place. However, over one third of in-patients experience sleep disturbance, often caused by noise. This can compromise patients' perceptions of care quality and cause physical and psychological ill health.
Aims:
To assess 1) in-patients sleep quality, quantity, reported sources of sleep disturbance and their suggestions for improvement 2) objectively measure decibel levels recorded at night.
Methods:
This descriptive study conducted in a Medical Assessment Unit used multi-methods; a semi-structured 'sleep experience' questionnaire administered to a purposive sample of in-patients; recording of night-time noise levels, on 52 consecutive nights, using two calibrated Casella sound level meters.
Results:
Patient ratings of 'in-hospital' sleep quantity (3.25; 2.72 SD) and quality (2.91; 2.56 SD) was poorer compared to 'home' sleep quantity (5.07; 2.81 SD) and quality (5.52; 2.79 SD). The difference in sleep quality (p<0.001) and quantity (p<0.001) ratings whilst in hospital, compared to at home, was statistically significant. Care processes, noise from other patients and the built environment were common sources of sleep disturbance. Participants' suggestions for improvement were similar to interventions identified in current research. The constant noise level ranged from 38-57 decibels (equivalent to an office environment), whilst peak levels reached a maximum of 116 decibels, (equivalent to banging a car door one metre away).
Conclusion:
The self-rated patient sleep experience was significantly poorer in hospital, compared to home. Noise at night contributed to sleep disturbance. Decibel levels were equivalent to those reported in other international studies. Data informed the development of a 'Sleep Smart' toolkit designed to improve the in-patient sleep experience.
---
June 18, 2020