RESEARCH ARTICLE
Effects of a Mobile Educational Program for Colorectal Cancer Patients Undergoing the Enhanced Recovery After Surgery
Bo-Yeoul Kim1

,

*
,
Kyu-Joo Park2
,
Seung-Bum Ryoo2
2
Department of Surgery, Seoul National University College of Medicine, Seoul National University Hospital, Seoul, Korea
Article Information

Article History:
Received Date: 6/6/2018
Revision Received Date: 19/07/2018
Acceptance Date: 19/07/2018
Electronic publication date: 31/7/2018
Collection year: 2018

© 2018 Kim et al.
open-access license:
This is an open access article distributed under the terms of the Creative Commons Attribution 4.0 International Public License (CC-BY 4.0), a copy of which is available at:
https://creativecommons.org/licenses/by/4.0/legalcode
. This license permits unrestricted use, distribution, and reproduction in any medium, provided the original author and source are credited.
Abstract
Background:
The Enhanced Recovery After Surgery (ERAS) program hastens recovery from colorectal cancer by shortening the treatment period and enabling a return to normal activities. However, patients with colorectal cancer treated under the ERAS program have fewer opportunities to consult with medical staff and receive education regarding self-care and experience more affective stress and anxiety.
Objective:
This study aimed to develop and assess an educational program for patients with colorectal cancer treated under the ERAS program, considering affective aspects.
Method:
Patients with colorectal cancer (n = 118) who underwent open colon surgery under the ERAS program were assigned alternately in the order of admission on a 1:1 basis to a treatment group (n = 59) and conventional care group (n = 59). The treatment group received a two-week mobile-based intervention, whereas the control group received conventional care. Quality of life, self-efficacy, anxiety, and depression were compared between the two groups.
Results:
The mobile web-based educational program significantly reduced the negative impact of surgery on the quality of life in the treatment group, compared with the conventional care group, and triggered a noticeable decline in anxiety and depression and increase in self-efficacy.
Conclusion:
The developed mobile web-based educational program effectively enhanced self-efficacy, positively impacted the quality of life, and reduced anxiety and depression. The program could have a positive effect on the quality of life of patients with colorectal cancer treated under the ERAS program.
Keywords: Anxiety, Colorectal cancer, Depression, Education, Quality of life, Self-efficacy, Depression.

---
---
LIST OF ABBREVIATIONS
| | |
| --- | --- |
| | |
| ERAS | = Enhanced Recovery After Surgery |
| FACIT-C v 4 | = Functional Assessment of Cancer-Colorectal tool |
| FLIC | = Functional Living Index-Cancer |
| SNU | = Seoul National University |
ETHICS APPROVAL AND CONSENT TO PARTICIPATE
This study was reviewed and approved by the Clinical Research Ethics Committees at both SNU and the SNU hospital..
HUMAN AND ANIMAL RIGHTS
No Animals were used in this research. All human research procedures followed were in accordance with the ethical standards of the committee responsible for human experimentation (institutional and national), and with the Helsinki Declaration of 1975, as revised in 2013.
CONSENT FOR PUBLICATION
Written informed consent has been obtained for this study.
CONFLICT OF INTEREST
The authors have no conflicts of interest to disclose.
ACKNOWLEDGEMENTS
We are grateful to the patients who participated in the study. All authors have contributed to the design, analysis, and preparation of the study results. This study received a grant from the Bumsuk Academic Research Fund in 2015.
APPENDICES
APPENDIX A. The CONSORT flow diagram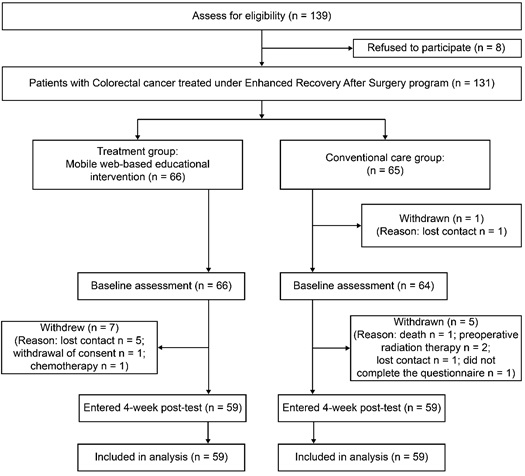 APPENDIX B Flowchart of the treatment group
Stage
Topic
Content
Baseline (1st survey upon research registration)
Personal information Baseline
-Sex, age, marriage, education, religion, employment, contact information
Development of educational program
Analysis

Development



System assessment
-Literature review
-Focus group interview
-Expert interview
-Research of currently available colorectal cancer-related websites
-Content selection
-Display arrangement
-Website construction
-Composition of smartphone-based educational content
-Development of program manuals
-Development of evaluation criteria for confirming learning effect
-Program simulation and revision
Expert evaluation
Evaluation on cancer patient application
-Introduction to program, explanation on how to use it, and encouragement for participation via individual interview
Application of educational program
Provision of intervention Monitoring
-Setting health goals
-Understanding colorectal cancer
• What is colorectal cancer?
• Diagnosis
• Treatment
• Prevention
-Physical care after discharge
• Surgical wound care
• Intestinal fistula care
• Pain care
• Complications care
-Emergency management
• How to handle an emergency
• When to visit the hospital
-General management after discharge
• Dietary management
• Bowel management (diarrhea and constipation)
• Daily activity management (exercise, shower, sitz bath, odor care, and sexual life)
• Fatigue
• Stress management
-Community of colorectal cancer patients
• Experience of colorectal cancer patients
• Experience of caregivers of colorectal cancer patients
-Psychological and affective support through listening to experts and feedback
-Review of learning content, counseling, and encouragement via telephone
Compliance assessment
Participation assessment
-Assignment of 'task performance table' by session and verbal persuasion via telephone counseling and short text messaging
-Assessment on patients' participation in program and accomplishment of goals
Review (after four weeks)
Post-test
APPENDIX C
REFERENCES
| | |
| --- | --- |
| [1] | Jonsson CA, Stenberg A, Frisman GH. The lived experience of the early postoperative period after colorectal cancer surgery. Eur J Cancer Care (Engl) 2011; 20(2): 248-56. |
| [2] | American Cancer Society. Survival Rates for Colorectal Cancer, by Stage. The American Cancer Society Available from: 2017.https://www.cancer.org/cancer/colon-rectal-cancer/ detection-diagnosis-staging/survival-rates.html |
| [3] | Syvak LA, Maĭdanevych NM, Hubarieva HO, Lial'kin SO, Aleksyk OM, Askol'skyĭ AV. The toxic effects of chemotherapy on the gastrointestinal tract. Lik Sprava 2012; 3(4): 25-30. |
| [4] | Livingston PM, Craike MJ, White VM, et al. A nurse-assisted screening and referral program for depression among survivors of colorectal cancer: Feasibility study. Med J Aust 2010; 193(5)(Suppl.): S83-7. |
| [5] | Committee on Cancer Survivorship. Improving Care and Quality of Life From Cancer Patient to Cancer Survivor, Lost Transition 2006. |
| [6] | Jefford M, Lotfi-Jam K, Baravelli C, et al. Development and pilot testing of a nurse-led posttreatment support package for bowel cancer survivors. Cancer Nurs 2011; 34(3): 1-10. |
| [7] | Kehlet H, Wilmore DW. Evidence-based surgical care and the evolution of fast-track surgery. Ann Surg 2008; 248(2): 189-98. |
| [8] | Roulin D, Donadini A, Gander S, et al. Cost-effectiveness of the implementation of an enhanced recovery protocol for colorectal surgery. Br J Surg 2013; 100(8): 1108-14. |
| [9] | Muller S, Zalunardo MP, Hubner M, Clavien PA, Demartines N. A fast-track program reduces complications and length of hospital stay after open colonic surgery. Gastroenterology 2009; 136(3): 842-7. |
| [10] | Kim B, Park S, Park K, Ryoo S. Effects of a surgical ward care protocol following open colon surgery as part of an enhanced recovery after surgery programme. J Clin Nurs 2017; 26(21-22): 3336-44. |
| [11] | Heitzmann CA, Merluzzi TV, Jean-Pierre P, Roscoe JA, Kirsh KL, Passik SD. Assessing self-efficacy for coping with cancer: Development and psychometric analysis of the brief version of the Cancer Behavior Inventory (CBI-B). Psychooncology 2011; 20(3): 302-12. |
| [12] | Qian H, Yuan C. Factors associated with self-care self-efficacy among gastric and colorectal cancer patients. Cancer Nurs 2012; 35(3): E22-31. |
| [13] | Worster B, Holmes S. The preoperative experience of patients undergoing surgery for colorectal cancer: A phenomenological study. Eur J Oncol Nurs 2008; 12(5): 418-24. |
| [14] | Nga FS, Yau LL, Wai LL, Yee TF. A nurse-led psycho-education programme for Chinese carers of patients with colorectal cancer. Cancer Nurs Practice 2014; 13: 31-9. |
| [15] | Friedman AJ, Cosby R, Boyko S, Hatton-Bauer J, Turnbull G. Effective teaching strategies and methods of delivery for patient education: A systematic review and practice guideline recommendations. J Cancer Educ 2011; 26(1): 12-21. |
| [16] | Clauser SB, Wagner EH, Aiello Bowles EJ, Tuzzio L, Greene SM. Improving modern cancer care through information technology. Am J Prev Med 2011; 40(5)(Suppl. 2): S198-207. |
| [17] | Drott J, Vilhelmsson M, Kjellgren K, Berterö C. Experiences with a self-reported mobile phone-based system among patients with colorectal cancer: A qualitative study. JMIR Mhealth Uhealth 2016; 4(2): e66. |
| [18] | World Health Organization. mHealth: New horizons for health through mobile technologies: B on the findings of the second global survey on eHealth (Global Observatory for eHealth Series, Volume 3, 2011) Available from: 2011.http://www.who.int/goe/publications/ goe_mhealth_web.pdf |
| [19] | Bandura A. Self-efficacy: toward a unifying theory of behavioral change. Psychol Rev 1977; 84(2): 191-215. |
| [20] | Burch J. Enhanced recovery and nurse-led telephone follow-up post surgery. Br J Nurs 2012; 21(16): S24-S26, S28-S29. |
| [21] | Faul F, Erdfelder E, Buchner A, Lang AG. Statistical power analyses using G*Power 3.1: Tests for correlation and regression analyses. Behav Res Methods 2009; 41(4): 1149-60. |
| [22] | Epstein RM, Fiscella K, Lesser CS, Stange KC. Why the nation needs a policy push on patient-centered health care. Health Aff (Millwood) 2010; 29(8): 1489-95. |
| [23] | Charnock D, Shepperd S, Needham G, Gann R. DISCERN: An instrument for judging the quality of written consumer health information on treatment choices. J Epidemiol Community Health 1999; 53(2): 105-11. |
| [24] | Ward WL, Hahn EA, Mo F, Hernandez L, Tulsky DS, Cella D. Reliability and validity of the Functional Assessment of Cancer Therapy-Colorectal (FACT-C) quality of life instrument. Qual Life Res 1999; 8(3): 181-95. |
| [25] | Cheung YB, Goh C, Wee J, Khoo KS, Thumboo J. Measurement properties of the Chinese language version of the functional assessment of cancer therapy-general in a Singaporean population. Ann Acad Med Singapore 2009; 38(3): 225-9. |
| [26] | Zigmond AS, Snaith RP. The hospital anxiety and depression scale. Acta Psychiatr Scand 1983; 67(6): 361-70. |
| [27] | Oh SM, Min KJ, Park DB. A study on the standardization of the hospital anxiety and depressed scale for Koreans. J Korean Neuropsychiatr Assoc 1999; 38: 289-96. |
| [28] | Sherer M, Maddux JE, Mercandante B, Prentice-Dunn S, Jacobs B, Rogers RW. The self-efficacy scale: Construction and validation. Psychol Rep 1982; 51: 663-71. |
| [29] | Oh BJ, Lee EO, Tae YS, Um DC. Effects of a program to promote self-efficacy and hope on the self-care behavior and the quality of life in patients with Leukemia. J Korean Acad Nurs 1997; 27: 627-38. |
| [30] | Wagnild GM, Young HM. Development and psychometric evaluation of the Resilience Scale. J Nurs Meas 1993; 1(2): 165-78. |
| [31] | Rashid YA, Ghafoor ZA, Masood N, et al. Psychosocial impact of cancer on adult patients. J Pak Med Assoc 2012; 62(9): 905-9. |
| [32] | National Institutes of Health. (2017, October 2) Depression National Institutes of Health Available from: https://www.nimh.nih.gov/health/topics/ depression/ index.shtml |
| [33] | Lizdenis P, Birutis J, Čelkienė I, et al. Short-term results of quality of life for curatively treated colorectal cancer patients in Lithuania. Medicina (Kaunas) 2015; 51(1): 32-7. |
| [34] | Shida D, Wakamatsu K, Tanaka Y, et al. The postoperative patient-reported quality of recovery in colorectal cancer patients under enhanced recovery after surgery using QoR-40. BMC Cancer 2015; 15: 799. |
| [35] | Perkins HY, Baum GP, Taylor CL, Basen-Engquist KM. Effects of treatment factors, comorbidities and health-related quality of life on self-efficacy for physical activity in cancer survivors. Psychooncology 2009; 18(4): 405-11. |
| [36] | de Castro EK, Ponciano C, Meneghetti B, Kreling M, Chem C. Quality of life, self-efficacy and psychological well-being in Brazilian adults with cancer: A longitudinal study. Psychol 2012; 3: 304-9. |
| [37] | Shaw J, Harrison J, Young J, et al. Coping with newly diagnosed upper gastrointestinal cancer: A longitudinal qualitative study of family caregivers' role perception and supportive care needs. Support Care Cancer 2013; 21(3): 749-56. |
| [38] | van Stralen MM, de Vries H, Mudde AN, Bolman C, Lechner L. Efficacy of two tailored interventions promoting physical activity in older adults. Am J Prev Med 2009; 37(5): 405-17. |
| [39] | Nasi G, Cucciniello M, Guerrazzi C. The role of mobile technologies in health care processes: The case of cancer supportive care. J Med Internet Res 2015; 17(2): e26. |
| [40] | O'Neill S, Brady RR. Colorectal smartphone apps: Opportunities and risks. Colorectal Dis 2012; 14(9): e530-4. |
| [41] | Heydarnejad MS, Hassanpour DA, Solati DK. Factors affecting quality of life in cancer patients undergoing chemotherapy. Afr Health Sci 2011; 11(2): 266-70. |
| [42] | Suhonen R, Stolt M, Berg A, et al. Cancer patients' perceptions of quality-of-care attributes-Associations with age, perceived health status, gender and education. J Clin Nurs 2018; 27(1-2): 306-16. |